---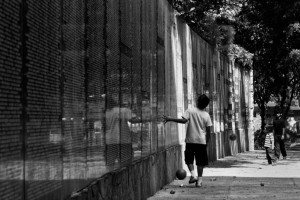 In 1997, nelson de witt, a 16-year-old adoptee from Boston, Massachusetts, discovered that he had been identified as one Roberto Coto, an infant who disappeared in 1982 after a deadly government raid on three guerrilla safe houses in Tegucigalpa, Honduras.
The raid rescued a kidnapped businessman and also resulted in the disappearance of a dozen Salvadoran revolutionaries, including Roberto's biological mother, Ana Milagro Escobar. Today, a generation after one of the bloodiest conflicts of the Cold War, the wounds of the Civil War in El Salvador are still open and the truth about them has been obscured.
Nelson/Roberto has determined that sharing his search for the truth about his story is his way of making a difference. At the heart of Nelson/Roberto's search is the simple belief that finding what makes us all alike—or connected—can change the world.
---
---
---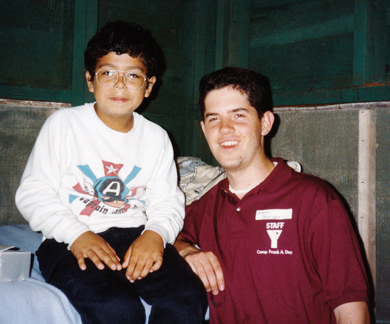 JULY 1990- Cabin 23, Camp Frank A. Day.
East Brookfield, Massachusetts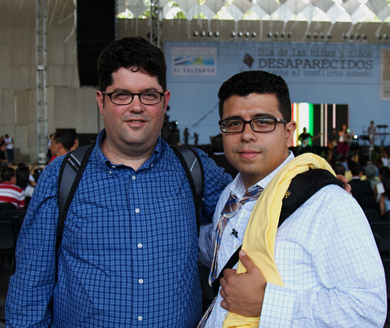 MARCH 2011- Día Dedicado a las Niñas y Niños Desaparecidos.
Anfiteatro del CIFCO, San Salvador, El Salvador
MAY 2012- Robert H. Kirschner, M.D., Memorial Human Rights Lecture Series
Chicago, Illinois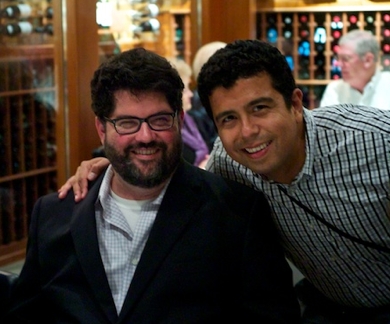 AUGUST 2013- John Younger's Wedding
Boston, Massachusetts
Our journey together started many years before the cameras started rolling. John (age 18) was Nelson's (age 8) first counselor at a YMCA summer camp in Western Massachusetts. Funny enough, we even shared a bunk together
---
After reconnecting on Facebook in 2008, John began reading Nelson's blog Ana's Miracle to find out why Nelson now referred to himself as Nelson/Roberto. Drawn in by Nelson's passion to share his family's story, we began working together after John offered to share his background as a TV/Film Producer to help in any way he could.
---
We launched a fundraising campaign via the crowd sourcing website Kickstarter that would allow us to begin telling the story in the form of a documentary. By the last week of our 8 week campaign, we had raised only 30% of our $15,000 goal when something amazing happened: we closed a $9,000 gap to successfully fund the project in six days and with the backing of 170 total supporters!
---
Nelson was invited to participate in an historic commemoration of El Salvador's Day of the Disappeared Children and we decided this event would be a great place to begin our documentary process. During our 10-day trip to El Salvador, we interviewed several members of Nelson's family and the other disappeared children, met the President of El Salvador, and traveled out to the Department of Chalatenango, the former Conflict Zone, to meet Suyapa Serrano Cruz, a woman who one day will be listed in textbooks about Latin America as a Civil Rights Hero. It was an amazing experience.
---
While Nelson was in LA, to shoot for the film, we were invited to KPCC Southern California Public Radio to share clips from the documentary. During the event Nelson was interviewed by several members of the press which eventually led to an article in the Huffington Post.
---
After members of the Kirschner family read the Huffington Post article Nelson, John, and Margaret Ward were invited to speak at the U. Chicago Robert H. Kirschner, M.D., Memorial Human Rights Lecture Series. John shared an 8-minute extended preview of the film, Margaret read from her book Missing Mila, Finding Family and Nelson spoke about the impact Dr. Kirschner had on his life.
---
The film is still in production, but you can sign up for updates to receive news about it's relaese. We want the project to help in the search for the at least 500 disappeared children who are still missing today.
---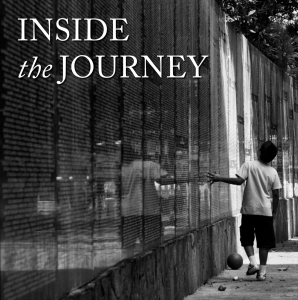 Every week John and Nelson release an episode of the
Inside the Journey
podcast. We talk about the latest developments with the film and bring in guests related to the project.
You can subscribe to the podcast on iTunes, Stitcher Radio, or SoundCloud. New episodes come out every Sunday, so make sure to follow along.
---
---
---
---
---
---
---
---
Narrator/Producer
Nelson de Witt/Roberto Coto
Director/Producer
John Younger
Editor
Brooks Larson
Field Producer
Alexander Renderos
Consulting Producer
Stuart Swezey
Directors of Photography
Ivan Manzano, David Robertson
Audio Technician
Wilfredo Sermeño
Still Photography
Mariano Coto
Tom de Witt
Margaret Ward
Assistant Editor
Vinnie Manierre

Translations
Alicia Portales
Derek de Witt
Transcriptions
Lorie Mayberry
Equipment Provided by
Imaginaut Entertainment
Footage And Stills
Wellesley College
Provided by
Physicians for Human Rights
Special Thanks
Kickstarter Backers
Website Designer
Cedric Victor