Episode #10: Why should we care? With Derek de Witt
[ 39 min 17 s | 17.99 MB ]
Download
Enhanced Podcast
[ 39 min 17 s | 18.68 MB ]
Download
---
Show Title: Why should we care? With Derek de Witt
In the tenth episode of the Inside the Journey podcast John & Nelson talk with Nelson's brother Derek about his experiences. He shares a poem he wrote and talks about why we should care about the war in El Salvador.
About the podcast
Our goal with the podcast is to give you a look at what is going on behind the scenes with the film and to explore this very complicated issue.
You can subscribe to the podcast on iTunes and Stitcher Radio. New episodes come out every Sunday, so make sure follow along.
You can follow us on Facebook or on Twitter or you can sign up for our email newsletter.
The Identifying Nelson/Buscando a Roberto newsletter goes out about once or twice a month. It contains only the most important news about the film and is the best way to keep updated about our progress. You can sign up here: http://eepurl.com/wvJEn.
Show Notes
Introduction
Welcome to the Inside the Journey Podcast. This is episode #10 for Sunday, July 7th 2013. I'm Nelson de Witt.
I'm John Younger.
And we are the team behind the documentary film Identifying Nelson/Buscando A Roberto.
Before we introduce today's guest I want to ask you for your feedback! We would love to know what is your favorite episode is and why?
I recently wrote post about why we should support and share our friend's work that got a lot of traction. In it I argue that if you want to support your friends then you should comment and share their work online. It lets us know that people like what we are doing and it spreads the word.
Today's guest is Nelson's brother Derek de Witt. Derek is someone who was was not directly effected by the war but was impacted by it.
Discussion
What is your favorite episode? Why?
What do you remember about the reunion and that time period?
How has the war in El Salvador impacted you?
On a personal level what does it feel like to be part of this bigger family?
Why should anyone care? (John)
Ask Derek about his poem.
Outro:
Thats our show!
You can subscribe to the podcast by going to www.identifyingnelson.com
We would love to hear form you. Leave us a comment on Facebook.com/IdentifyingNelson
Or if you want say something more personal email us at podcast@identifyingnelson.com
Tune in next Sunday, we talk to my niece Dani Sancho.
Images/Video: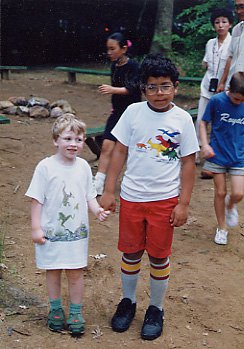 Links:
Credits: