Episode #1
[ 27 min 22 s | 12.53 MB ]
Download
Episode #1 (Enhanced)
[ 27 min 22 s | 13.63 MB ]
Download
---
Welcome to the first episode of the Inside the Journey podcast. John and I are so very excited to be sharing this with you today.
Since the completion of our Kickstarter project in the fall of 2010 we have been working hard to bring our vision to life. It has been a long road but we are getting ready to release the film this fall.
As part of this effort, John and I decided that we would launch a podcast to keep everyone up to date with what is going on. So much has happened with the project already but we don't always get to share it. We have done our best to keep everyone updated via Kickstarter and Facebook but we both felt we could do better.
About the podcast
Our goal is to give you a look at what is going on behind the scenes with the film and to explore the very complicated topic of the war in El Salvador. Besides talking about the film we want to bring you interviews with people who lived through and were effected by the civil war in El Salvador. John and I feel that this podcast will play a very important role as we get set for the fall release.
Since we are just starting, the Podcast is not available on iTunes but we will be adding it shortly. New episodes will come out every Sunday, so make sure to follow along.
You can follow us on Facebook or on Twitter or you can sign up for our email newsletter.
The Identifying Nelson/Buscando a Roberto newsletter goes out about once or twice a month. It contains only the most important news about the film and is the best way to keep updated about our progress. You can sign up here.
Help spread the word
Whenever you launch something into the world it can be incredibly difficult to get traction. If this project is meaningful to you in any way, we hope that you will share it.
We know you are busy, so we created a webpage that will let you easily share the podcast on Facebook and Twitter. If you're not into social media you can always forward this email.
Share the Inside the Journey Podcast.
Show Notes
Intro:
Welcome to the first episode of the Inside the Journey podcast. I'm Nelson de Witt. I'm John Younger and we are working on the Documentary film Identifying Nelson/Buscando a Roberto, a film about El Salvador's disappeared children.
Background (5 Min):
We thought we would provide you with a little background information about the war in El Salvador and who the disappeared children are. El Salvador, which is a tiny country in Central America the size and population of Massachusetts, was engaged in a bloody 13 year civil war. During that time over 900 children were either lost or stolen. They are called the Disappeared.
921 reports of children who went missing
382 Solved cases
235 Reunions
Discussion:
For the first episode we want to talk about how we got involved in this project and what it means to us now.
Questions for John: (by Nelson)
Why did John get involved?
Why did you get into TV/Film production?
What does this project mean to you?
What do you want to get out of it?
Image of Derek and Nelson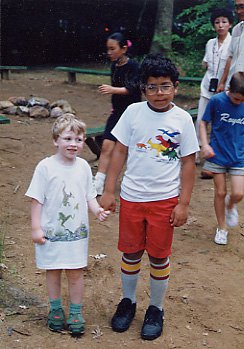 Questions for Nelson: (by John)
What has doing this meant to you?
What do you most want people to know about your story?
And a few more questions that I'm not telling 🙂
Outro:
Thats our show!
You can subscribe to the podcast by going to www.identifyingnelson.com
We would love to hear from you. Leave us a comment on Facebook.com/IdentifyingNelson
Or if you want say something more personal email us at podcast@identifyingnelson.com
Tune in next week: We will be talking about some of our personal highlights working on this film.
Links:
Credits:
Hosts – Nelson de Witt & John Younger
Producer – Mark Kornweibel
Editor – Nelson de Witt